Angstrom Advanced Announces Finalization of Equipment Testing at US National Renewable Energy Laboratory
Angstrom Advanced is the leading supplier of Hydrogen Generators for refinery, petrochemical and other industrial applications. Our services for Hydrogen Generating Plant projects typically include conceptual design, detailed engineering, procurement, fabrication, construction, start-up and operational training. We provide a lump-sum, turnkey solution, handling everything from concept to start-up with our own resources whenever possible.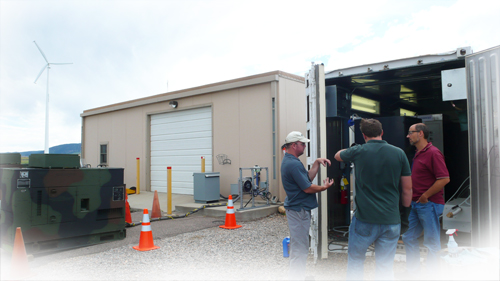 Boston, Massachusetts, USA - Oct 3, 2011 – Angstrom Advanced Inc, a leading developer and manufacturer of hydrogen generation and Renewable Energy related products, announced today that US National Renewable Energy Laboratory has successfully completed testing of VERDE-160S, the first hydrogen electrolyzer for renewable energy in the world, invented & developed by Angstrom Advanced Inc. The VERDE system is specifically designed by Angstrom Advanced to adapt to varying renewable power sources, like wind and solar.
"The National Renewable Energy Laboratory (NREL) installed, commissioned and tested an alkaline electrolyzer system provided by Angstrom Advanced, Inc. The electrolyzer, model VERDE-160S, was installed at NREL's Hydrogen Test Facility (HTF), which is adjacent to the Distributed Energy Resources Test Facility at the National Wind Technology Center." – Testing and Analysis of the VERDE-160S System from Angstrom Advanced , Kevin W. Harrison, Marc Mann, Michael Peters, Robert Remick, National Renewable Energy Laboratory, Energy Department.
The test at NREL's HTF successfully provided independent verification of system performance. With this invaluable information, Angstrom Advanced will be able to further improve the VERDE Renewable Hydrogen Generation System.
Renewable power, such as wind and solar energy, has some inherent disadvantages that prevent it from being effectively and fully utilized: wind & solar power generation is both intermittent and non-dispatchable. In current renewable energy systems, when the wind and solar power sources become less intense, conventional energy sources such as fossil fuels must be used again to mitigate any shortages of electricity. Dealing with these disadvantages is one of our top priorities, as we strive to see fossil fuels replaced with renewable resources.
Also of note Hydrogen production in the world is currently dominated by the use of high polluting fossil fuels, while only 4% of hydrogen produced in the world is currently produced by clean electrolysis (the production of hydrogen through electrolysis driven by clean power).
Angstrom Advanced is developing the Renewable Power Generating System 'VERDE' to collect extra renewable power during peak periods and produce hydrogen in a clean and effective way, as a means of energy storage. What sets VERDE apart from existing techniques is that current practices focus on how to smooth intermittent electricity to operate hydrogen generators, while VERDE system adjusts the output of the hydrogen generator based on the fluctuating power being supplied, making for a much more efficient system. This system is especially cost effective for use in remote wind production regions, where grid systems are limited.
Angstrom Advanced and National Renewable Laboratory has an agreement and will establish more strategic collaboration for Hydrogen and Renewable Energy.
About Angstrom Advanced: Angstrom Advanced Inc. is a global developer and supplier of hydrogen generation and Renewable Energy related products and services, serving clean energy markets all around the world. Based in Boston, Massachusetts, USA, Angstrom Advanced has operations and sales networks in North and South America, Europe, Asia and Africa.